Best Web Development Project Ideas For Beginners
Apr 16
There are many different kinds of web development projects that are perfect for beginner developers. The best ones are not too complicated but are slightly above your skill level. It is also important to set realistic expectations so you won't be disappointed if you don't get it right the first time. Some of the best web development project ideas for beginners include creating a product landing page, which requires a solid knowledge of HTML and CSS.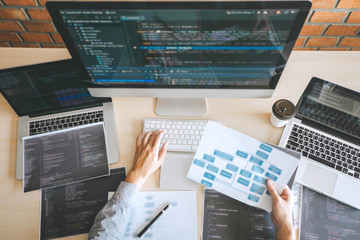 Other good beginner-level web development project ideas include building a quiz website. This is a great way to get some hands-on experience and learn new skills. You can create multiple-choice questions, offer several choices for each answer, and display the answers at the end. You can use CSS and HTML to structure the quiz page and make it look good, and JavaScript to detect the correct answers and show the results. A quiz site will teach you DOM manipulation, arrays, and event listeners.
Another beginner-level web development project idea is a social networking website. You can use this to learn about how people interact with websites. Social networking sites need a database to keep user information, and a script to generate unique profile pages. This is a great way to practice your HTML skills and learn about the various kinds of analytics systems. You can use a similar concept to create a game for kids.
For beginner-level web development projects, it is best to start with something more basic. The best ones will help you develop fundamental web development skills and give you hands-on experience. Advanced-level projects will require more experience, but they are still a great way to get the most out of your learning. So, pick a project and get started! Enjoy! And don't forget to share your achievements with the community!
For beginners, one of the best web development project ideas is to create an event page. This allows participants to register on the site. In the header, you can include a description of the event, a list of the key speakers, and the schedule. The entire page needs to look appealing and informative. You can use HTML and CSS to build an event page. A social networking site is an ideal project for beginners because it requires less HTML knowledge and is easier to maintain.
If you're just starting out, you can start small with a simple GIFs API. This is the easiest web development project for beginners and requires only basic knowledge of HTML. Using the GIPHY API, you can find and use GIFs on your site. And it doesn't require any API key! All you need to do is configure the URL and you're all set! A social media application is the perfect way to stay up-to-date on the latest trends.
Another great project for beginners is a word counter. A word counter is an easy web project that allows users to enter text in any language they prefer. It counts the number of characters or words they input. It can also help users avoid grammar errors and other spelling mistakes. When the number of users is too high, it can become annoying. A word counter can be extremely useful for a student who is just starting out in web development.
Some of the best web development project ideas for beginners are personal portfolios. These are a great way to show off your skills to potential employers. If you're not sure what you're looking for, you can create your own personal portfolio. These pages can showcase your skills. It will also be possible to show a resume and contact information. The best web development project for a beginner is one that demonstrates your skills and abilities.
The best web development project ideas for beginners include an address book. This project involves creating, storing, and managing contacts. It can also allow users to create new contacts, edit existing contacts, or remove contacts. A basic HTML, CSS, and JavaScript website will suffice for this project. The best web development project ideas for beginners should be interesting and practical to work on. If you are just beginning to learn the basics of web development, you can start with an Address Book and build it from there.
Dreams To Reality SEO
5463 Useppa Dr Ave Maria, FL 34142 United States
2399327970
Naples SEO, Web Delvoper Naples, SEO Services Naples
https://zipzapt.com/listing/dreams-to-reality-seo/
http://www.lacartes.com/business/Dreams-To-Reality-SEO/1987127
https://ebusinesspages.com/Dreams-To-Reality-SEO_eg0mi.co
https://www.linkcentre.com/profile/dreamstore321/
https://www.callupcontact.com/b/businessprofile/Dreams_To_Reality_SEO/7919854
https://www.pinterest.com/dreamstorealityseo/_saved/
https://www.facilityaxs.net/united-states/ave-maria/professional-services/dreams-to-reality-seo
http://www.gbguides.com/dreams-to-reality-seo.html
https://us.enrollbusiness.com/BusinessProfile/5685616/Dreams%20To%20Reality%20SEO
https://www.mapquest.com/my-maps/c9060cda-89e4-45c0-b1a8-11f47f5d90ad
https://businesslistingplus.com/business-listings/dreams-to-reality-seo.html
https://www.acompio.us/Dreams-To-Reality-SEO-36379083.html
https://www.bizofit.com/business-directory/dreams-to-reality-seo/
https://www.provenexpert.com/en-us/dreams-to-reality-seo/
https://www.huludirectory.com/business_and_economy/marketing_and_advertising/?p=2701
https://www.aventuraonline.us/profile/dreams-to-reality-seo/downloads
https://smartbizpages.com/business-directory/200012/dreams-to-reality-seo/
https://411freedirectory.com/listing/dreams-to-reality-seo-270976
https://www.bunity.com/dreams-to-reality-seo
https://directory10.biz/listing/dreams-to-reality-seo-328169
https://acedirectory.org/listing/dreams-to-reality-seo-484523
https://target-directory.com/Internet/Web_Design_and_Development/?p=901
http://www.thefreeadforum.com/postclassifieds/jobs/marketing/dreams-to-reality-seo_i3484496
https://target-directory.com/listing/dreams-to-reality-seo-342868
https://www.find-us-here.com/businesses/Dreams-To-Reality-SEO-Ave-Maria-Florida-USA/33494589/