It was just a matter of time.
Just like Amazon, YouTube and Netflix before, Facebook has officially entered the video streaming game with Facebook Watch.
What is Facebook Watch and what does it mean for your marketing strategy?
What is Facebook Watch?
Facebook Watch was introduced in 2017 to select users in the US through mobile, desktop and TV apps. It's the company's entry into episodic streaming video.
Videos range from mini documentaries to live sporting events, thanks to partnerships with Major League Baseball. At the start there was a certain group of publishers, but the company opened them up to other developers.
How does Facebook Watch make money?
Facebook Watch is monetized through commercial breaks. The production partners earn 55% of sales from commercial breaks, while Facebook keeps 45%.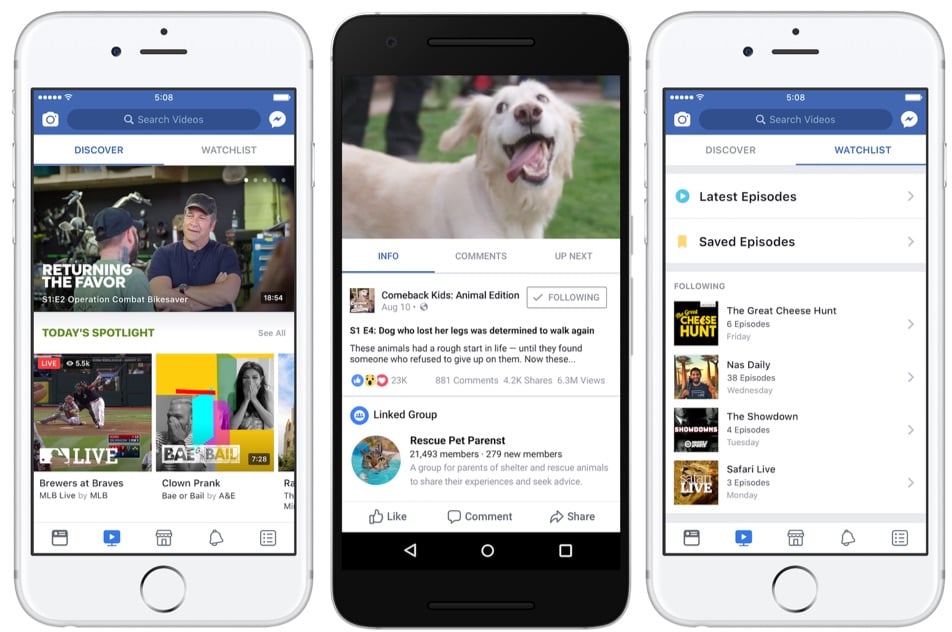 What makes Facebook Watch different from other streaming services?
The streaming video room is undoubtedly crowded, so Facebook had to find a way to make Facebook Watch stand out. There are three main differences between Facebook Watch, all of which are good indicators of its staying power.
Original video content: Displayed via a new tab called "Watch", the content is for the most part exclusive to Facebook Watch and cannot be viewed anywhere else (with the exception of the live content available through deals like Major League Baseball).
Free: Since Facebook Watch is monetized through commercial breaks, it's completely free for the audience. All you have to do is log into your Facebook account.
Personalized: Finally, and perhaps most importantly, Facebook Watch is hyper-personalized in a way that no streaming platform has ever seen before.
The new "social viewing" trend: Facebook Watch Alternatives
Facebook Watch's personalization takes advantage of everything users already love about the platform – it's personal and social. People love to get recommendations for the things they love, and they love to share those things with friends.
Facebook Watch offers personalized recommendations on the Discover tab. It uses fun, Facebook-like categories like "Most Talked About", "What Makes People Laugh", and "Shows Your Friends Are Watching".
Subscribing to a show instantly connects Facebook users with other fans through groups linked to shows.
During a show, Facebook users get access to a live comment section where they can chat with other viewers and friends in real time.
All of these features indicate a strong focus on social viewing. While the social viewing trend is new, we've seen it before.
For example, Tumblr launched its video chat service Cabana (which is no longer available). The app worked like a Tumblr / FaceTime hybrid, where users could see their friends' reactions in real time while they were all watching a video together.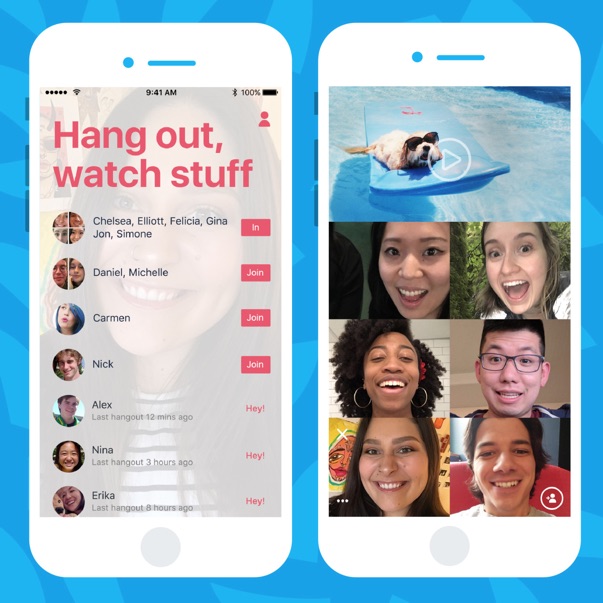 However, Tumblr didn't have the huge audience that Facebook enjoys.
Social viewing veteran YouTube has also made some changes. YouTube has added in-app chat to its Android and iOS apps.
Previously, users could only share videos with other apps like Twitter or text messaging. Now conversations can also take place natively on YouTube.
The user interface is similar to Google Hangouts and seems to be YouTube's answer to the messaging capabilities offered by Instagram and Snapchat.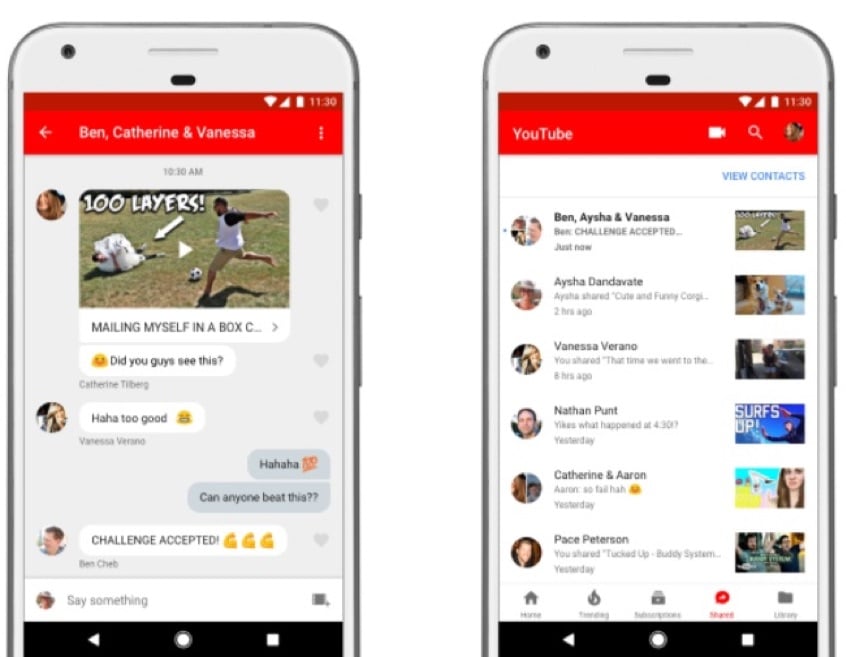 When multiple social media platforms are following, it's a sure sign that a new trend is continuing. Social viewing doesn't go away. How can marketers benefit from this?
What Facebook Watch means for marketers
Facebook has 1.82 billion users who log into the website every day. For all of you wondering, their monthly active users only hit 2.7 billion.
Both numbers mean Watch is a major initiative on Facebook that marketers shouldn't ignore. Facebook plans to incorporate Watch Episodes into the news feed, and the company has a track record of using the news feed to lead new features to success.
Here are four ways Facebook Watch is changing the game for marketers.
1. Ads are likely to become more important to Facebook advertisers
In an increasingly internet marketing savvy world, people are better able to turn off ads. Google actually ditched and removed the ads in the right sidebar.
Fortunately for advertisers, Facebook Watch is showing great promise.
A Facebook user's news feed is very loud, so your ad won't always be easily noticed. With video, you have a trapped audience that will no longer see your ad. You can't just scroll down their feed to get away from it.
Longer videos increase the effectiveness of ad break and mid-roll ads. When Facebook adds social engagement features to the ads themselves, such as: B. Reactions and approval, they perform even better.
Traditional television has been on a downward trend for years. Facebook Watch is accelerating the shift of advertising dollars from TV to digital and mobile.
2. Facebook Watch offers influencers and social creators a powerful channel
As promising as the commercial breaks are, it's noteworthy that Facebook Watch publishers can turn them off entirely.
Instead, they can make money through product placement as long as they mark the sponsor for transparency. This has a huge impact on budding videographers, actors, singers, and documentary filmmakers who hope to fund their growth through influencer partnerships.
The influencer's rise owes a large part of its success in large part to YouTube. But Facebook Watch could be even more fruitful for influencers.
For example, Facebook Watch opens display patterns that are less search-driven than YouTube. Users who watch or subscribe to programs will see them in their newsfeed along with other daily updates from friends instead of having to check YouTube for the latest uploads.
This gives influencers the opportunity to increase engagement through video, as the affinity of fans with influencers becomes even more important.
3. Facebook Live is important to brands
Facebook Live, along with Instagram Live, quickly gained popularity with brands.
With Facebook Live, brands can humanize themselves in real time and connect with fans. The live shows and events on Facebook Watch do the same.
What do your fans like? Do you prefer a structured video format or something more casual? How often do you want to see?
Daily shows in particular could be a gold mine for brands. The frequency keeps users coming back and ensures a lucrative ROI on product placements or commercial breaks. That consistent association with their favorite show could help consumers fall in love with your brand.
4. Facebook Watch is changing the game for video content marketers
Facebook emphasized the community aspect of Facebook Watch in its official announcement:
"Watching videos on Facebook has the incredible power of connecting people, engaging in conversations and fueling the community," said Daniel Danker, Facebook product director. "On Facebook, videos are discovered by friends and bring communities together."
Three of the four points in the press release mentioned connecting and bringing people together. Even the few seed shows sponsored by Facebook are touted as "community-oriented" video series.
It makes sense: the sense of community made people primarily fall in love with the platform.
Because of this, Facebook Watch videos tend to have higher sharing and social engagement rates than other platforms.
The current list of Facebook Watch programs focuses on reality shows, mini documentaries, and sports coverage – and is geared more towards YouTube than the heavy drama and comedies of other streaming networks.
While YouTube has been optimized for instructions and short-form content, Facebook Watch extends the possibilities to videos in longer form as well as to pure entertainment and passively consumed content.
Video content marketers should create content that fits into these categories and encourage real-time community discussion. Maybe your first time content should be created with the platform in mind first and foremost. Successful videos on Facebook Watch encourage and facilitate real-time conversations.
Conclusion
Facebook Watch is great for any marketer. The people on your paid social team will enjoy seeing more eyeballs on their ads, and the organic people will get more "authentic" ways to align with influencers.
Brands increasingly want to be seen as friends, not as companies. With Facebook Watch, you can do just that. When you're ready to try it out (or improve your strategy), check out this advanced guide on Facebook Watch.
Have you tried out Facebook Watch? What results did you see?